My Favorite Things
my favorite books: witch baby, into the wild, the glass castle, the man from inner space, ceremony, the magician's nephew, monkey, love medicine, the house on mango street, the martian chronicles, the bell jar, ayahuasca visions, fear and loathing in las vegas, the rum diaries, the diving bell and the butterfly, junko mizuno comics (particularly pure trance), black elk speaks, living on the earth, be here now, house made of dawn, bird by bird, valencia, ultraviolet, the secret life of plants, peyote, lame deer: seeker of visions, the phantom tollbooth, roxaboxen, breakfast of champions, alice in wonderland and through the looking glass, on the road, zen and the art of motorcycle maintenance, a clockwork orange, lolita, the dharma bums, seven arrows, the moths, anthem, and everything by ray bradbury, kurt vonnegut, sandra cisneros, helena viramontes, esmeralda santiago, francesca lia block, michelle tea, leslie marmon silko, or e.e.cummings <3
**anyone, please suggest books to me if you'd be so kind. i like deserts, aliens, magick, gardens, spells, baths, tea, crystals, mushrooms, cowboys, tribes, loners, children's books, and books that make you taste and smell and hear and cry**
********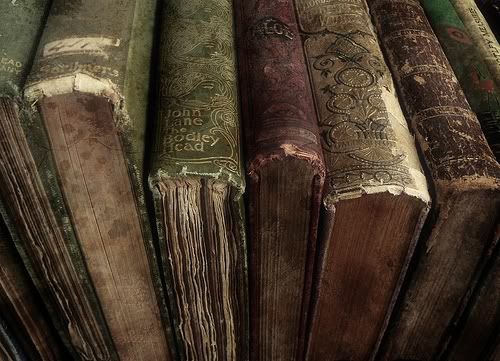 my favorite artists: rebecca artemisa, phantomquartz, stripedsweaters, seaspell, plutonia, lauraborealisis, kaleidoactive, junko mizuno, aya takano, henry darger, spiffmona, dprodigy, saffronlungs, scott ferry, stephanie pui-mun law, helena nelson-reed, pablo amaringo, alexandra lekias, nick mann, aspartamee, jonathan reid sevigny, chelsea brown, ravenari, sami-edelstein, ezhov, inechi, katy horan, birdrib, bethy williams, eveline tarunadjaja, josephine wall, morwiwan, pauvrechaton, mukilteocasualtie, brooke weeber, abo ooli, peter max, lakandiwa, mia taninaka, nanette55, frecklefaced29, deathofrats, glowing-fool, camilla d'errico, bloodykirka, dreamsnotover, basia-almostthebrave, hummachine, shroombaybe, tea-peace, alwaysb, babyc, s-doll, chloe lee edwards, erika somoygi, fireraiserxd, sarah paladin, yusuke gunji, conrad roset, pino, brandi milne, betsy walton, catherine campbell, phil lewis, apak studios, zhou fan, gaston caba, amy sol, and so many, many more. :)  without you guys i would not live and i thank you. <3
************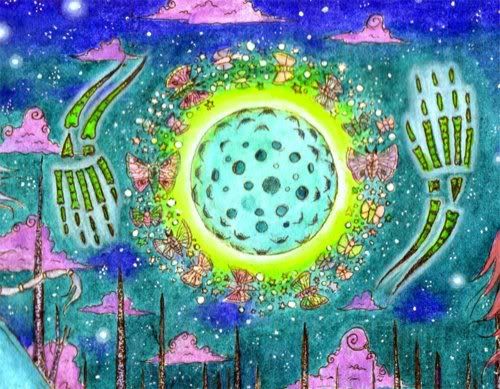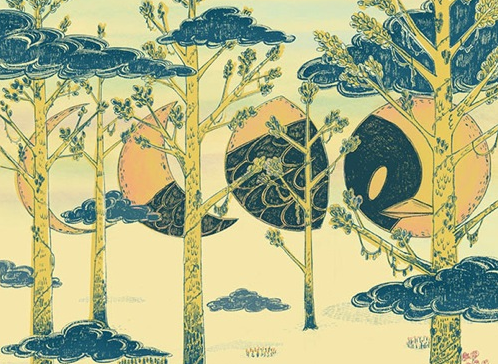 my favorite movies: The Diving Bell and the Butterfly, The Science of Sleep, Persepolis, V for Vendetta, Contact, Man on the Moon, Heavenly Creatures, Alice in Wonderland, Leon the Professional, anything Studio Ghibli makes (particularly Princess Mononoke and Spirited Away and Ponyo), Sick Nurses, Juno, Virgin Suicides, Secret Garden, Children of Men, The Dark Crystal, Series of Unfortunate Events, Volver, Eternal Sunshine of the Spotless Mind, American Beauty, The Fountain, Into the Wild, Factory Girl, My Fair Lady, Little Miss Sunshine, Fairy Tale: A True Story, Donny Darko, Avatar, Moulin Rouge, Akira, Paprika, musicals, The Tracey Fragments, and The Sea Prince and the Fire Child.  Zombie movies during thunderstorms. <3
***********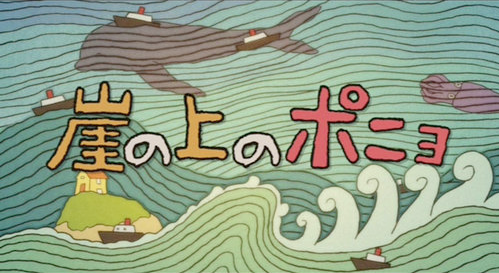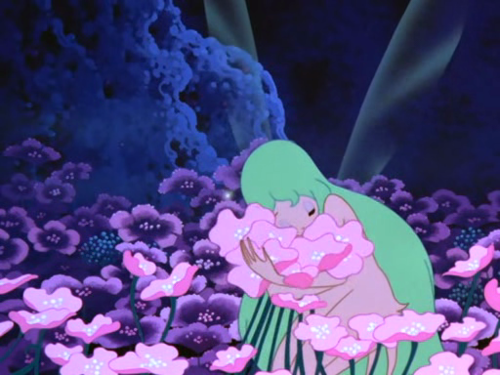 my favorite shows: adventure time ^_^ (this show is literally my everything, & unbelievable on psychedelics), king of the hill, arrested development, skins (uk), wilfred, it's always sunny, northern exposure, food porn, super jail.  i don't own a t.v. though.  only shows & movies on the internet with adblock plus ;)
*******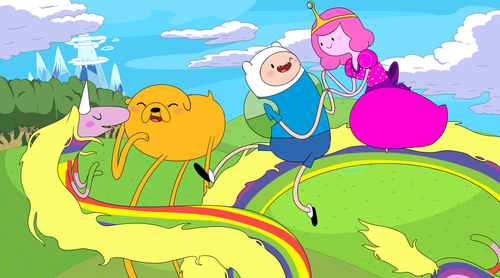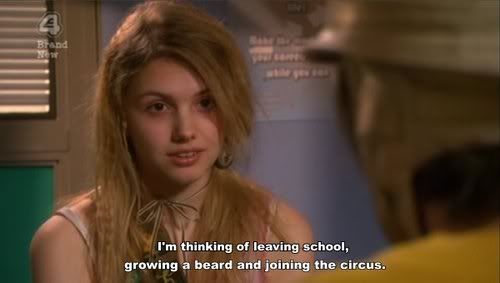 my favorite music: faun fables, noe venable, team sleep, the webb sisters, gillian grassie, glasser, universal hall pass, the lucky dragons, amon tobin, new buffalo, emiliana torrini, rebecca sugar, school of seven bells, tobacco, sufjan stevens, neon indian, florence and the machine, festival, the ditty bops, beats antique, tycho, quiet village, balmorhea, boards of canada, tribal beats, mirah, sia, neutral milk hotel, lykke li, yelle, beirut, simon & garfunkel, coeur de pirate, the mountain goats, passion pit, dragon wagon, perfume, fantastic plastic machine, of montreal, johnny hobo and the freight trains, tilly & the wall, mgmt, cocorosie, black moth super rainbow, gogol bordello, caravan palace, paris combo, why?, crystal castles, kimya dawson, fiona apple, the like, devendra banhart, ashley erikkson, feist, the carpenters, the beatles, the gipsy kings, mount eerie, venus hum, norah jones, nina persson, ladyhawke, rilo kiley, the blow, the moldy peaches, regina spektor, imogen heap, the bird & the bee, stars, soko, gregory and the hawk, woods, bird dog, aqualung, bat for lashes, hymie's basement, the unicorns, tim minchin, symphony x, little wings, bon iver, the fiery furnaces, flight of the conchords, the violente femmes, devics, tiger darrow, the do, jem, demon divas, the burns unit…. and la la la la la la la la la
~*~* please feel free to suggest music.  i like glitter sounds, minor tonalities, female vocals, dischordant distortion, haunting harmonies, & complex layering*~*~
**********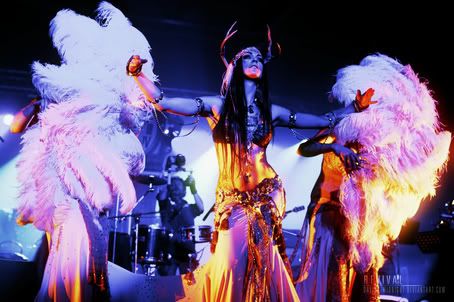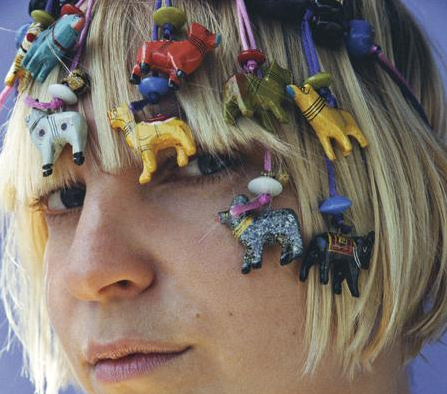 my favorite cigarettes: i'm a cigarette vagabond… don't have favorites.  i was seduced by djarum blacks, chain-smoked camels with russians, shared american spirits with drunk hipsters, rolled spliffs when i was lonely, flirted with fantasias, got broke with pall malls, and now i puff on cowboy killers.  though i'm in love with herbal cigarettes and i've been known to smoke tea, flowers, and catnip, meow <3.
**********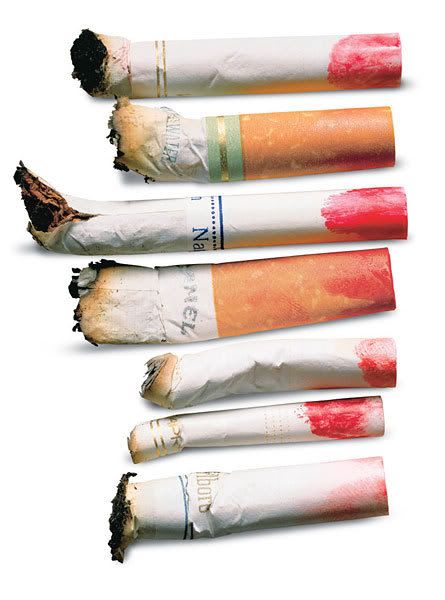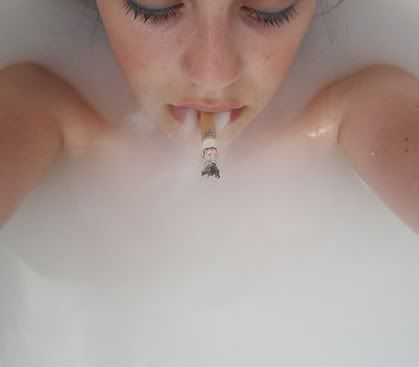 my favorite teas: homemade lavendar milk tea, honeyed date tea, ethiopian tea (chunks of sugared orange, cloves, & cinnamon), blooming tea, everything from Teavana, and jasmine-green… but i could list off lovely tea for hours.  i just love drinking flowers :3
***********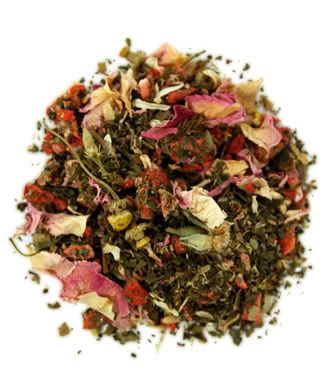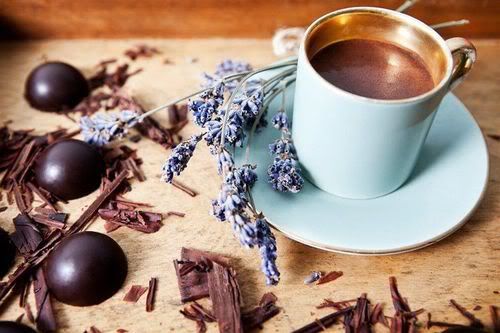 my favorite alcohol: absolut wild tea, witches' brew, blue moon, bloody marys, sah-tea, soft parade (with blueberries, strawberries, raspberries, and blackberries!), hop slam, homemade sangria, howl (a pitch-black lager by magic hat), and i'll drink any wine with a beautiful label, because i'm superficial and uneducated.  i love the warm glow of wine and fruity beers.  :)
************
my diet: coffee and tea and cigarettes for breakfast, lavendar tea for lunch, mushrooms/fish/veggies/sushi for dinner, wine and beer for dessert.  i'm a happy pisces pescetarian (with a heavy raw food side), who eats herbs and broccoli and flowers, consumes ungodly amounts of liquids, and loves fish as friends and food.  i've pretty much been some form of peskie or veggie or vegan or fruitarian since i was in the third grade.  meat makes my stomach sick, dulls the brain, promotes unsustainable and inhumane farming practices, and is pretty gross.  there are so many more beautiful things in the world to eat!  i don't know why we insist on stuffing our faces with it, and making it the staple of the american diet.  i am addicted to seafood though as japanese cuisine was a huge part of my childhood (& college-hood), but i lean towards eating sustainable seafood. 
*********
am i gay, straight, bisexual, or pansexual?  i'm just sexual.  if i had to label myself, i'd be pansexual, which… beyond having frequent sex with pots and pans and various kitchen utensils, means that i view men and women equally and love whoever i want based on love alone.  i love having sex with girls.  it's very sweet and passionate.  i usually end up dating boys because cosmic, single, weird, pretty, dirty, nearby ladies are hard to come by… plus boys are just so chill and sit around and fart and play video games and don't bleed and cry everywhere, haha.  i'm not sure how i feel about monogamy… i'm a very jealous cat… but i hate the restrictions of the two person marriage, nuclear family scenario.  if it was up to me, i would love and fuck everything, but i respect the feelings of whoever i'm with and i don't want to hurt people.  i'm still discovering what's right for me.  but i know i want to love many, many more ladies.
**********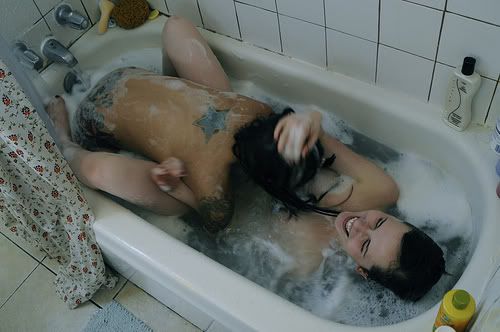 what's your perfect kind of girl?  she has weed stems and bits of glitter in her rainbow, dready hair.  she smells like a garden… jasmine and lavender and herbs and earth and roses and rabbit ghosts.  she has freckly shoulders and knees, warm skin, a pierced face, and forest eyes.  she dresses like the back of a closet and leaves lipstick prints on cigarettes.  she dances with wine and whispers cosmic lullabies in my ear while nibbling my neck.  she braids flowers in my hair and draws third eyes on my face.  she throws her clothes on the flower, sings in the bath, listens to NPR, and smokes cheap tobacco with her coffee or tea.  she has a sickly sweet mind with a dark side.  her head is either lost in a book or a garden, her hair is always messy, she eats like a bird, and drinks like a fish.  she surprises me with ghost stories and princess treasures.  she works hard, loves hard, plays hard, cries hard, dreams hard, and lives hard.  she loves spells and buddha and fish and shrooms as much as i do.  she runs away with me in the forest and we smoke ganja and roll in the leaves.  she aches to travel… she wants to ride wild horses and put footprints in the mountains.  she worships the full moon, and we make tree forts and blanket forts and secret cults and cacti coven together.  she blesses mead, grows her own herbs, makes jewelry, and creates art in everything she does.  she is humble but gorgeous and smart and interesting.  she curls up with me like we're yin and yang kittens, as we put spells on stars, drink and smoke ourselves into a stupor, read faerytales, sing songs about heartbreak, kiss noses and ears, share stories with ghosts, and fall asleep under the ocean.
********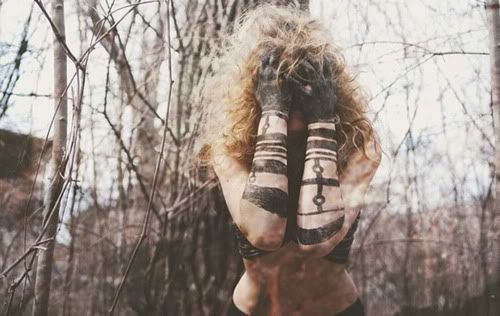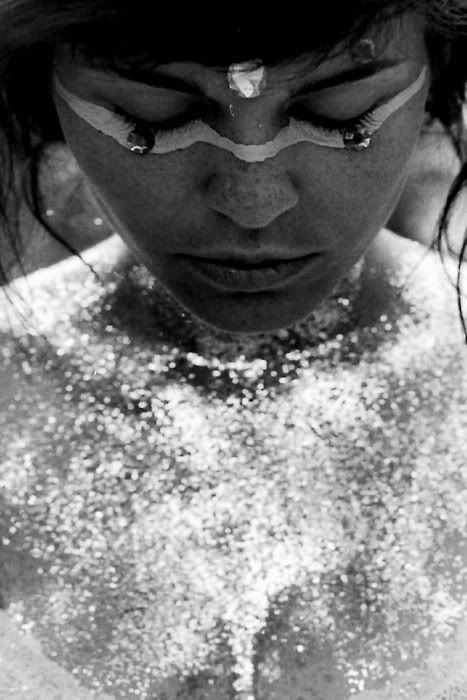 what are your favorite spells and witchery? bath spells, tea spells, mesas, crystal healing, drawing down the moon, fire ceremonies, drunk tarot readings, & panties yoga  (i'll expand later, promise)
********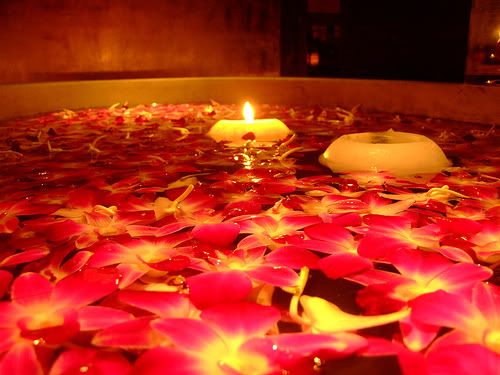 what are your favorite video games?
Bastion, Sword & Sworcery, Ecco the Dolphin, Klonoa, Seikan Densetsu, Legend of Zelda, Rayman, Sonic, Aquaria, Plants vs. Zombies, Yin Yang, Commander Keen, Chocolate Castle, Dungeons of Dredmor, Harvest Moon, Cookie & Cream, The Sims: Making Magic, & Katamari Damashii!!!
what do you dress like?
what is your spirituality?  (see spirituality page)
what's your advice for a first shroom trip? (see drugs page)
how do i meditate? (see meditation page)
how do i stay happy & connect to others/nature?
what hair dye do you use?
what's your sun, moon, and rising?
pisces sun, gemini moon, and moonchild (cancer) rising <3
how can i become a cosmic forest person or join the tribe?
will there ever be a real, physical tribe?
what are your favorite things?
what kind of sex do you like?
what's your favorite color?
who or what inspires or influences you the most?